XXX Biennale Internazionale dell'Antiquariato di Firenze, 23 settembre – 1 ottobre 2017
XXX Biennale Internazionale dell'Antiquariato di Firenze
Palazzo Corsini, 23 settembre – 1 ottobre 2017
di A. C.
While Paris has changed its Biennale to run every year, the equally venerable Florance Biennale,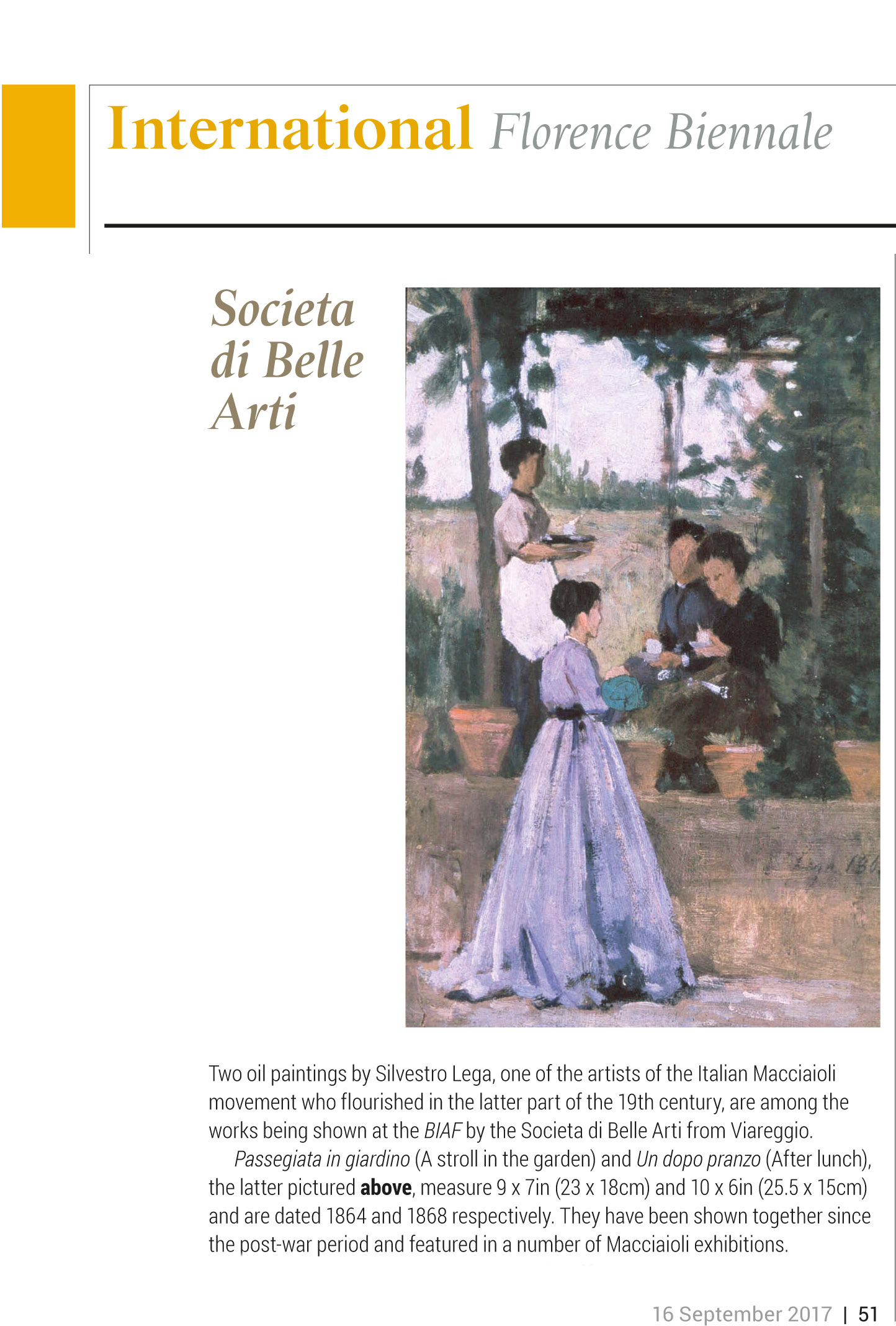 (the Biennale Internazionale dell'Antiquariato di Firenze – BIAF) retains a traditional format running
in alternate years.
The 2017 staging, the 30th, takes place at its usual venue, the Palazzo Corsini from September 23-October 1.
That alternation of the Florence and Paris fairs in the past meant dealers could stand at both on
consecutive years.
The gap is much smaller now of course – less than a week separetes the closure of one and the
opening of the other – but some galleries are still doing both. The Galerie Sarti and Robilant and
Voena are among those hot-footing it from the Grand Palais to the palazzo this month.
Around 80 exhibitors are standing at the BIAF this year. The list is mainly composed on Italian art
and antiques dealers, but among the dozen or so from other countries the UK is to the fore.
London galleries taking part include Colnaghi, Tomasso Brothers Fine Art, Charles Beddington
and Lullo Pampoulides.
The fair's organisation is headed by Fabrizio Moretti, the Old Master dealer with galleries in
Florence, New York and London. He took over as secretary general for the 2015 edition with
the aim of re-energising this long standing fair.
Changes this year include a new designer, the Venetian interior decorator Matteo Corvino, and a
dateline move up to the 1980s.
The dateline change, says Moretti, "reflects the trend we are seeing at all the major sector events
around the world … a type of collecting that has shown a clear preference for mixing works of
different eras, from archaeological finds to contemporary pieces".
This year the BIAF is linking up with the Palazzo Strozzi's exhibition, The 16th Century in
Florence: From Michelangelo to Vasari, which opens in Florence on September 21 and runs until
January 21, 2017 (palazzostrozzi.org).
Visitors have the opportunity to visit both events at a special reduced price.